Over the years I got confused which Steely Dan song and what version is on what album. As I wanted to collect all (versions of) Dan songs and also all albums on which Walter and Donald play, I made a list of these songs, versions and albums, which still can be found on the internet as a Word Perfect document. But it was growing bigger and bigger. So I had to put the info into a database. Some versions couldn't be found on albums but they became available as sound clips on the internet. How to keep track of what I collected? Store it in this same database. Then the question rose how to view this information easily. Showing it in a browser with capabilities for sound clips, videos and images was the logical next step. Then why the hell don't make it available to others? So in January 2000 I did and put it on the internet.

The database behind this site contains lots of info. To make all this info available in a comprehensible way, I divided this site in several pages.
Clicking on one of the plus signs at the main page opens a page directly or opens a group of pages.
Most pages show a figure at the top. This figure is a diagram that shows the relation to other pages.
Please have a look at this very simplified model of the Steely Dan Database.
Here you see the relation between the different pages on this web site.

A
song
has one or more versions.
A
version
is performed by an artist, appears on a release and is performed by one or more musicians.
An
artist
made one or more releases and consists of one or more musicians.
A
release
is made by an artist and contains one or more songs.
A
musician
plays on one or more songs and plays one or more instruments.
The song info pages have a green background.
The version info pages have a purple background.
The release info pages have a blue background.
A
song
can have lyrics (
or

), a MIDI file (

or

) and transcriptions (

or

).
A
version
can have a sample (

,

or

).
An
artist
can have a photo (

).
A
release
can have a cover photo (

).
A
musician
can have a photo (

).
An
instrument
can have a photo (

) and a sample (

).
Using the web site navigator:



A red box indicates your current position in the web site.
A blue box indicates a link to another position in the web site.

Some lists with song versions have colored line numbers. This indicates whether the version is in my collection.
| | |
| --- | --- |
| 19 | This version/all versions in my collection |
| 19 | This version/all versions not in my collection |

---
Most lists are searchable. Just enter your search string and hit the search button. The site will return a list containing this string. There are a few characters in the search string that have a special meaning:
% is a wildcard for one or more characters
_ is a wildcard for exactly one character

If you want to search for specific dates, note that dates are stored as yyyymmdd, meaning 4 letters for the year, followed by 2 letters for the month, followed by 2 letters for the day.
So if you want all dates in the year 2000, search for '2000____'. (that is: '2000', then 4 times '_').
Or if you want to search for all dates in March, search for '____03__' (that is: 4 times '_', then '03', then 2 times '_').

---
There still are some releases I'm looking for.
Please let me know if you have one.
Unless it is a really special recording, featuring Becker or Fagen, I don't trade recordings.
I'm sorry, I get several requests a week for trading, so I hope you'll understand.
In stead you can try the news group
alt.music.steely-dan
.
This news group is accessible by
Google news groups
Bootlegs are sometimes offered there.
Or you can try the torrents.
Here's my
want list
.

---
And look what I found in Argentina: the mural that was used for the cover of the Gaucho album.
Unfortunately in January 2010 it was not anymore as colorful as it used to be.

---
Until April 2003 the database was stored in Microsoft Access and the pages were generated by Microsoft's Active Server Pages (ASP).
In April 2003 the database was transferred to MySQL, and the technique to generate the pages was replaced by JavaServer Pages (JSP).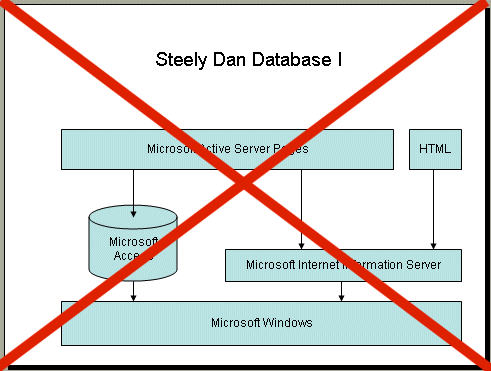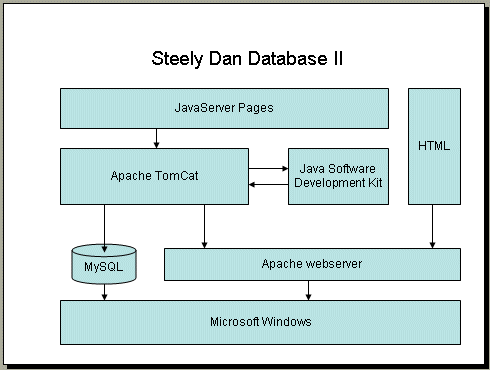 ---
The information about releases, songs, versions, musicians in the database would not be as complete as it is now without info I got from other Dan fans and their sites. To mention the most important sources:
Pat Beemer, Tomas Broberg, Pete Fogel, Peter Forret, John Granatino, Jim (Hoops McCann) McKay, Andy Metzger, Joe Murtha, J. Otanen, Scott Parkin, Stein Rimehaug, Shino Masa, Brian Sweet, Sydney Urshan, Howard Wright, Barney Hurley, Dave DiMartino, Hans Jonkhof, Matthew Kerns...
For their contribution:
Scott Andrew Borton for the background image.
R Scott Murray for the cartoon picture that's most of the time on the homepage.
Bert Gangl for lots of tour info.
Dan O'Malley for the
Steely Dan Dictionary
that I link to from the
lyrics
.
And finally: not all sound clips were made by myself and most images, MIDI files, lyrics and transcriptions were stolen from other sites.

---
There are lots of web sites about Steely Dan. The most important ones are:

---
This site was started in 2000 and is still owned by Hans Verlouw